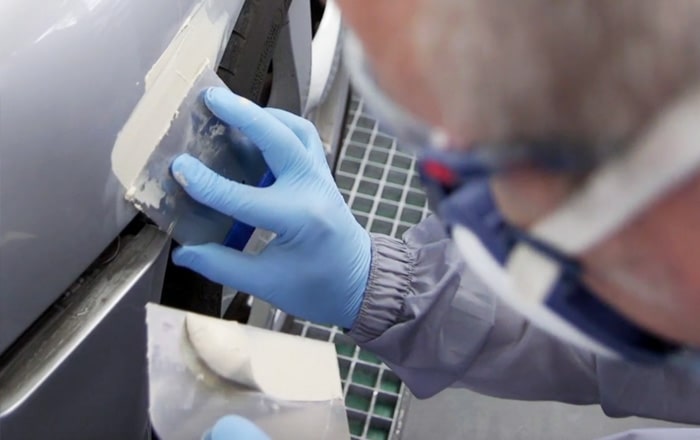 Car putty, also known as body putty, is an essential product in most of the work processes during the repair and repainting of a vehicle.
There are different types of putty specially designed to obtain an optimum result depending on the type of repair and substrate to work on. Knowing the characteristics of each car putty and its proper application, will be aspects that every bodyshop professional should master in order to optimise the profitability of each repair.
What is car putty?
Car putty is a 2K paint or two-component paint. This means that it requires a hardener (benzoyl peroxide) for activation. When we mix the filler putty with its corresponding hardener, a chemical reaction takes place that accelerates the drying and hardening process of this product.
The mixing ratio of the hardener is usually between 2% or 3% (based on weight) of the total mixture.
A key aspect for correctly handling and applying the body putty will be to adjust this mixing ratio so that the activation and drying time is appropriate and allows us to work calmly.
At present, the most commonly used type of car putty in bodyshops is polyester putty, which is a type of putty that is made of polyester resins. It is applied during the process of preparing the intermediate coat, prior to the applying the filler paint or primers.
Main characteristics of the car putty
The main use of this product is related to levelling irregularities and small sinks in the surface of the part or parts. In this regard, it should be noted that its use is not expressly intended for filling large dents, as this type of practice is the origin of possible paint defects such as sinkage.
Body putty should not be used as an anchoring coat for the final colour coat and clearcoat, we must apply an intermediate coat that works as an insulator and optimises the adhesion of subsequent coats (filler paint).
The application and sanding technique will determine the final quality of the repair. Consequently, it will be essential to use a high-performance product that provides excellent levelling conditions and ease of sanding.
Which is the best car putty?
Ease of application, spreading and sanding of the product
Flexible, elastic and not highly porous
Filling power
Good adhesion
Types of body putties
This segment, like that of other products in the body repainting sector, has undergone a great development over the years.
The appearance of new types of car putty, with better compositions and performance, forces the professional to know all the possibilities available on the market, to reduce the caulking work process and provide the highest quality service to the customer.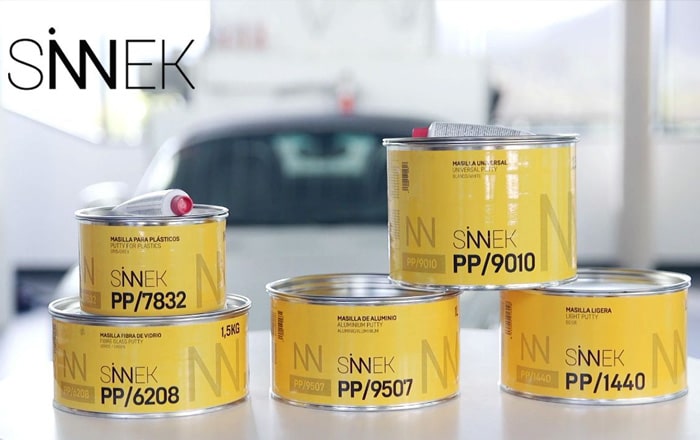 Let us now look at some of the most common types of car body putties:
Lightweight or low-density putties
This type of car putty has a lower density and weight, as it contains hollows in its composition. They are aimed at making the application and sanding process easier, due to their excellent filling power, fineness and absence of pores. They are usually products that are very versatile in their application and can be used on different types of substrates (steel, aluminium, plastic, etc.). SINNEK's PP/1440 putty is an excellent example of this category.
Universal body filler
This is a type of product that is widely used in the bodyshop for picking up flaws and filling dents. It provides good flexibility, filling capacity, excellent sanding ability and adhesion on steel, cast steel, electrogalvanised and GRP. In this segment, we highlight the universal putty PP/9010.
Fibreglass putty
It is a type of compact and consistent car putty, which have been added fibreglass fillers to their composition. This feature provides excellent hardness and optimises the filling of dents, cracks, perforations or GRP laminates. It can be used in the repair of passenger car and industrial vehicle bodies, railway material, machinery, boats, etc.Also, in the construction of models and prototypes where an easily mouldable and easy to sand material is required. An example of fibreglass putty: PP/6208.
Aluminium putty
These putties are prepared with a metallic aluminium pigment base. This feature allows to increase the filling and hardness performance compared to other models. In addition, its thixotropy facilitates its application on the part to be repaired. An example of this type of product is aluminium putty PP/9507.
Car putty for plastics
Plastic putties are recommended to repair body parts such as bumpers or mouldings made of different types of plastic such as PC, PC-PBT, PP-EPDM.
They tend to have a softer and less porous texture. Their main characteristic is their excellent capacity to absorb shock and vibration due to their greater elasticity. For example: SINNEK's PP/7832.
Conclusion
As we have seen, the options for car body putties in the bodywork sector are wide and varied. Each repair will demand one type or another to optimise the application and sanding process, increasing the final quality of the repair. Knowing the different types that exist and their proper use during the work process will be an essential aspect to consider to continuously improve the profitability and productivity of repairs.