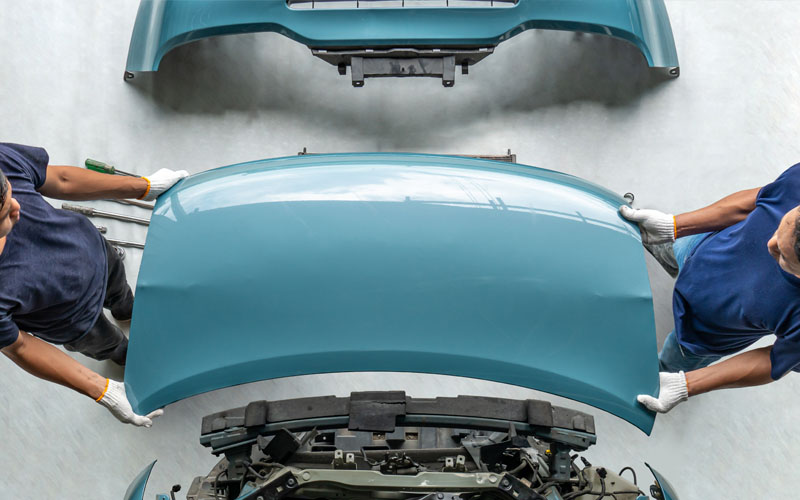 At present, the search for the bodyshop's profitability is one of the great challenges for managers and professionals in the bodywork sector.
The increased technical complexity of repairs, a more competitive market and higher customer service level requirements are some of the factors that have a decisive influence on bodyshop management and profitability.
First step: get to know our client
Customers choose a bodyshop based on two clear concepts: price and quality of the repair.
These are customers that are permanently connected, and have many options to take their vehicles for repair. This means that they will require greater attention and added value from the bodyshop.
They want to feel understood; they want the repair to be a quality repair and they want the service to be fast. All this without having to leave their vehicle in the bodyshop for too long. In short, they seek to obtain excellent user experience, a key aspect in bodyshop profitability.
On the other hand, conducting a comprehensive study of all work processes carried out at the bodyshop will be essential for assessing the strengths and aspects to improve, analysing the vehicle repair cycle, from receipt to delivery.
Relying on a qualified team, good tools and excellent products aimed at optimising the bodywork repainting process will be key factors to consider.
Tips to increase the bodyshop's profitability
Many managers wonder whether they are efficiently optimising all the resources available to them in the bodyshop or whether they have control over working times.
At SINNEK ACADEMY we understand the importance for a bodyshop to achieve optimal business profitability, while offering a quality service that is seen by customers as an added value.
Therefore, here are some keys and solutions aimed at improving your bodyshop's profitability and your customers' satisfaction.
1. Digitising work processes
Nowadays, despite technological evolution, digitalisation and the proliferation of management tools, there are still many bodyshops that lack this type of solution integrated into their work processes.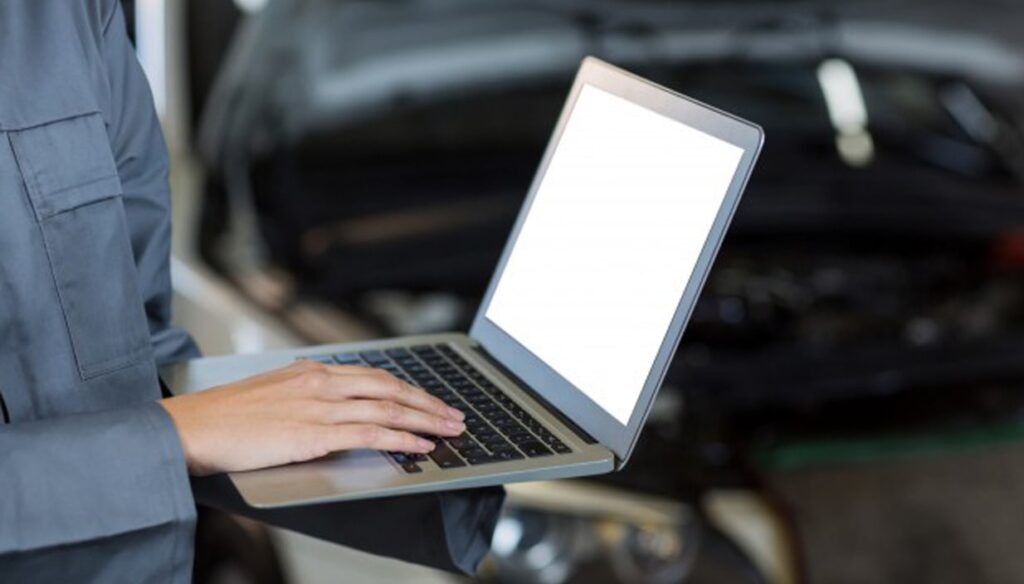 The digitalisation of work orders, material purchases or the creation of customer files and budgets allows improving the traceability of repairs and customers.
Different studies have shown that the time a vehicle needs to stay in a bodyshop can be reduced by up to 15% through the digitisation of work processes.
These provide better control and monitoring of each repair, efficiency and productivity ratios for each employee at the bodyshop, and of the cycle and break-even point of your business.
For example, there is a procedure in place for keeping record of customer data. You will be able to relate all the customer's repairs and see the evolution, which will help save time and resources on every repair.
On the other hand, managing the bodyshop's accounts through a digital tool will allow optimising control over expenses, income, budget items, stock and product control, etc. This will result in a better knowledge of the bodyshop's capacity and gross profit per hour.
The more data and information on customers and the business you can collect (provided that it is relevant to your business context), the better you will make decisions to increase the bodyshop's profitability and productivity.
2. Increasing efficiency and productivity in repairs
This is a recurring problem in the bodyshop, and its optimisation will allow having more time to devote to other equally relevant resources and work processes.
To do so, the best solution will be to use a high-performance paint system that is specially designed to increase efficiency in each repair.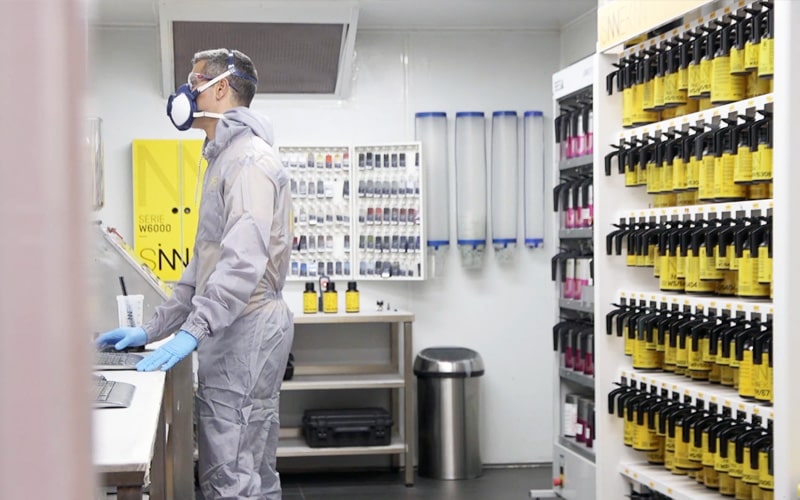 This is a recurring problem in the workshop, and its optimisation will allow having more time to devote to other equally relevant resources and work processes.
To do this, the best solution will be to use a high-performance paint system that is specially designed to increase efficiency in each repair.
The combination of SINNEK's W6000 series waterborne basecoat system and its quick drying putties, fillers and clearcoats will lead to greatly increasing the bodyshop's productivity compared to other painting systems.
Its excellent coverage and colorimetry result in product consumption savings, while allowing for a final high-quality finish.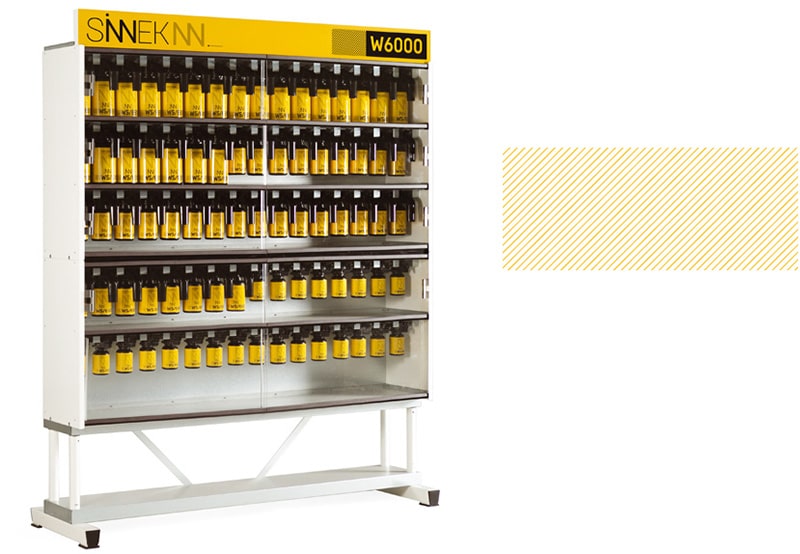 In addition, the SINNEK W6000 Series is specially designed to optimise application and drying times in different repair processes allowing a remarkable energy saving, and ensuring an excellent gloss, appearance and durability of the finish. All these features will allow the professional to:
Reduce costs per repair.
Improve bodyshop planning.
Reduce delivery times.
Increase the flow of repairs.
Improve customer satisfaction
Using tools to improve colorimetry in repairs such as paint will be a crucial complement for the bodyshop's profitability.
3. Correct initial assessment of the damage
An appropriate identification and estimation of damage of a damaged vehicle contributes to significantly improving the financial performance of the service offered and customer satisfaction.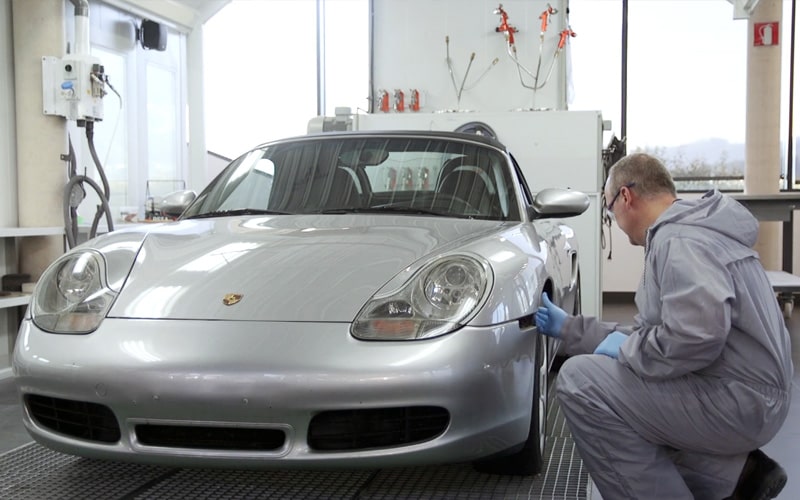 It is therefore important to be trained and to know the processes and techniques that allow a correct prior assessment of the repair.
The vast majority of repairs carried out at the bodyshop are budgeted or preliminary appraised, so an erroneous calculation of the extent of the repair will have a direct impact on the bodyshop's profitability.
Making any subsequent change can be expensive and be detrimental to customer experience, as customers will not readily accept a change to a previously approved budget.
Depending on the type of repair, it may be usual for an external expert to be responsible for appraising and identifying the damage to be repaired.
However, it is also important for the bodyshop professional to be involved in the assessment and scope of the damage. He shall always bear in mind the search for profitability in the repair, even advising the expert on time and material cost estimates or on the technical complexity of the repair that have not been considered in the expert systems (dismantling, small materials, downtime, etc.).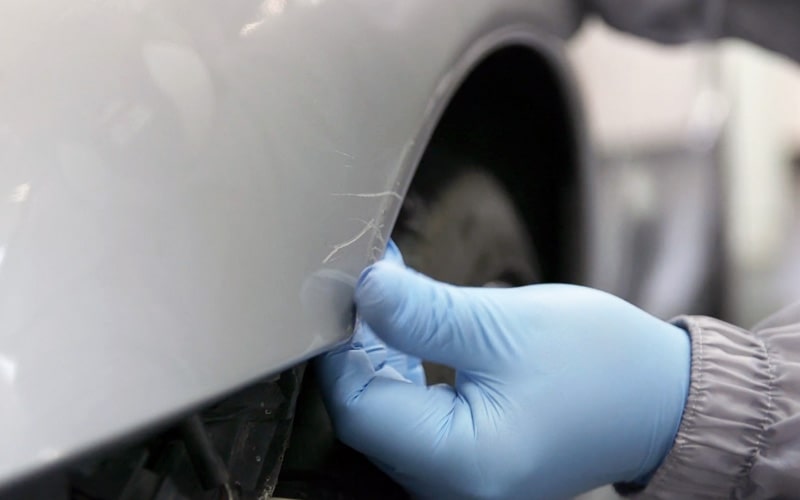 What are the advantages of making a correct prior assessment of the repair for the bodyshop's profitability?
The need for tools and qualified personnel with training and knowledge to carry out a correct assessment of the damage must be considered. All this will bring a number of advantages:
It will leave no room for improvising, as a result of problems arising during the repair due to an incorrect prior assessment.
Longer working time availability: accordingly, the quality of the repair increases with more time and planning for its execution. We also reduce the return of vehicles due to repair errors.
Suppression of work processes such as calls to customers and experts, new appraisals, changes in budgets, etc.
Fulfilment of delivery times, which leads to a better customer experience. In addition, this improves the bodyshop's workflow and reduces occupation rate.
4. Optimising paint consumption in the bodyshop
Professionals must always pay attention to the product mixing process, correctly identifying the colour to be reproduced and the amount required depending on the repair work.
The correct identification of formulas using a colour management software will help optimise the bodyshop's paint consumption.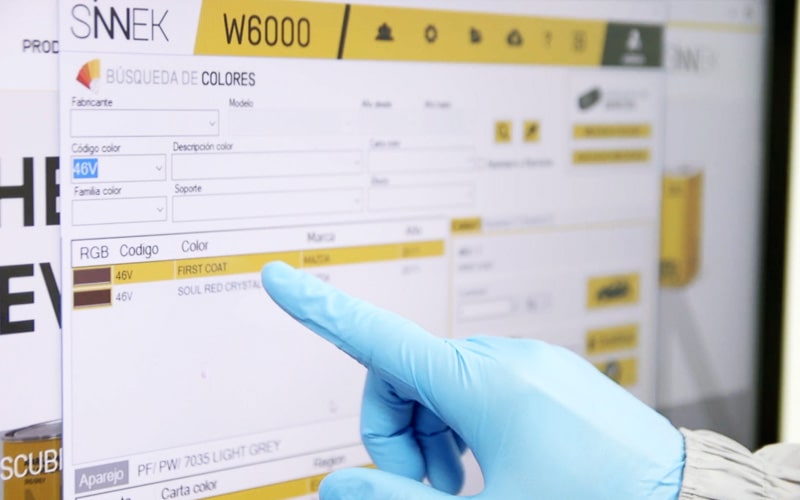 SINNEK has an advanced colour management software, which, in addition to formulating and correctly identifying the colour to reproduce, allows paint mixing tasks swiftly and precisely, enabling the paint manager and bodyshop manager to manage all paint-related aspects through its practical functions.
It is an intuitive and easy to use tool that allows the possibility of working against the cloud. It allows you to share formulas with users from other working points and to access their formulas, wherever they are.
It also speeds up the repair and provides complete information at product and cost management level, avoiding waste (the disposal of which also entails an additional cost).
The correct use of bodywork attachments to prepare the paint such as regulated containers, filters and application containers or FPS, will also help to optimise product consumption in a quick and clean way.
On the other hand, the technique used by the professional will also impact on more or less material waste.
Mastering application techniques such as blending or the appropriate use of the grey scale in the intermediate coat, will contribute to optimising paint consumption.
5. Optimising user consumption in the bodyshop
Excellent customer satisfaction is the cornerstone of any profitable business. This is not less true for a bodyshop.
However, not only is customer satisfaction achieved through a professional and quality repair. The customer himself/herself demands to feel valued, with a treatment and experience in line with the repair carried out.
To this end, all resources, both human and technical, must be directed towards this end.
Thus, a key aspect of customer experience in a bodyshop is the bodyshop's facilities.
It is not so much about the size, but cleanliness and order. The organisation of the different bodyshop areas, the tools available or the work team's image. Doesn't everyone realise the chaos existing in a bodyshop just by entering?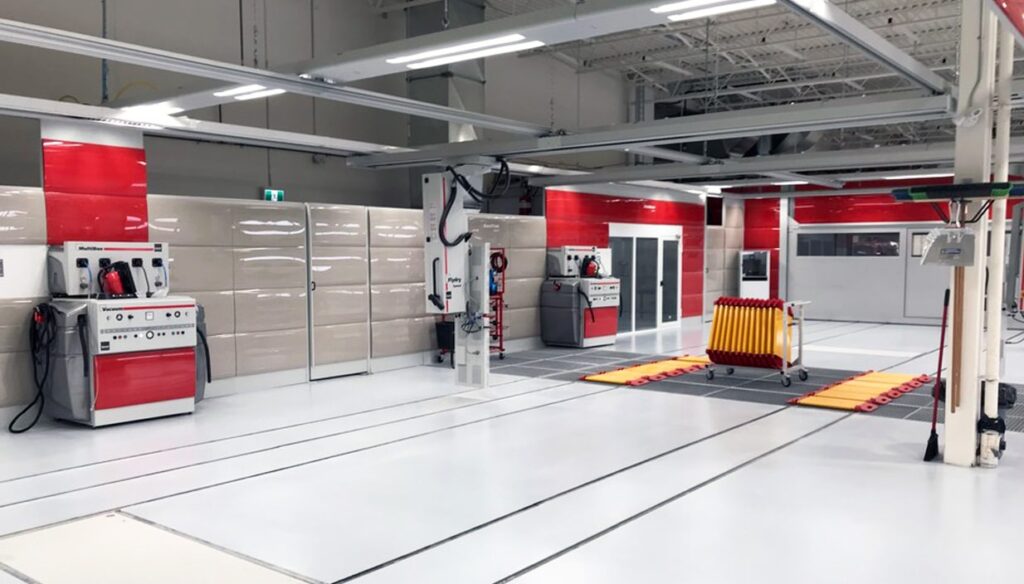 Corporate image is also a differentiating item. Posters, logos, teamwork or even digital channels such as social media, should be in line with the type of bodyshop and the values you want to convey. All this contributes to generating a complete and recognisable brand image for customers.
In addition to a tight budget and the on-time delivery of the vehicle, the catalogue of additional services will also be a key factor in user experience. Replacement car, transfer service, promotions or delivering a clean vehicle will give the bodyshop an excellent professional image.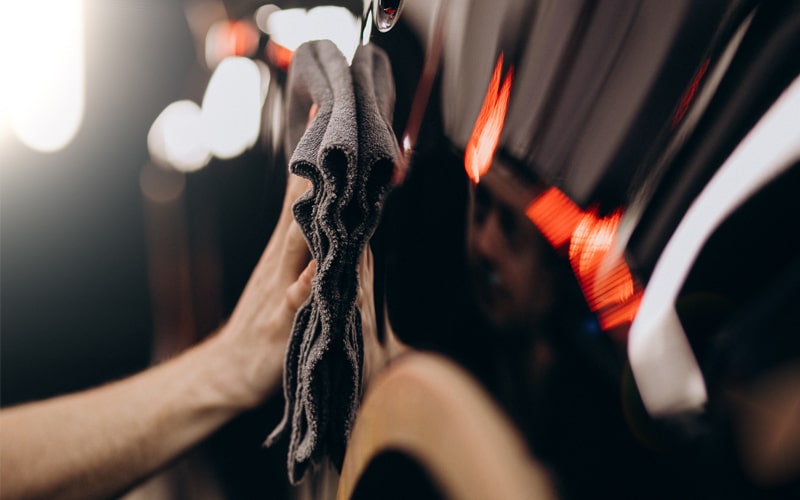 Logically, for this type of practice to have a relevant impact on the bodyshop's profitability, it must be correctly integrated into the bodyshop's workflow and dynamics.
Finally, something that can make a difference in user experience is to provide an added value repair.
For example, a customer requesting your services for a bodywork repair will greatly appreciate that the bodyshop corrects any minor flaws or scratches which were not previously considered, and which represents minimum time or material investment to the bodyshop.
Another example may be to handle insurance coverage issues. As professionals, we can advise them on the paperwork to be done or if they have any kind of problem or irregularity in their insurance policy.
Conclusion
As we have seen, there are different aspects to consider in order to increase a bodyshop's profitability. Obviously, there are other important factors that may depend on the context of each bodyshop, but we are sure that by focusing on the tips listed, any bodyshop can experience a remarkable improvement in its profitability over time.
Integrating these guidelines into the work processes, and involving and coordinating the entire professional team, will be crucial for obtaining the expected results.