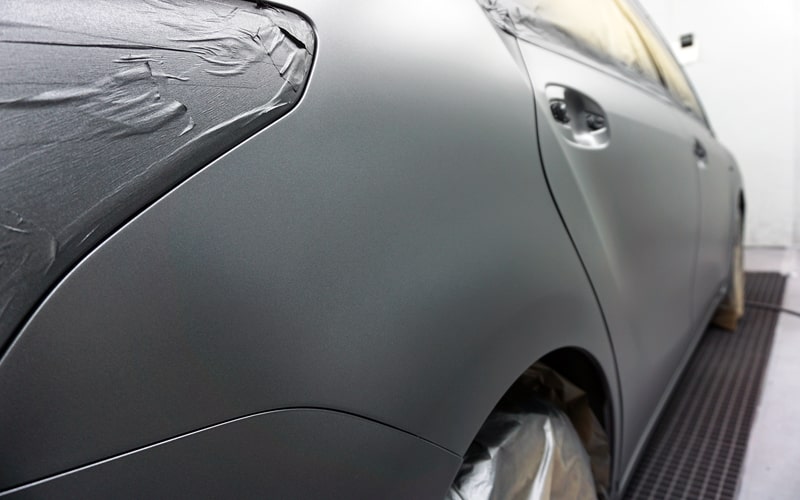 Matte paint finishes are becoming increasingly popular as users search for differentiating and exclusive bodywork aesthetics. A matte finish is a type of vehicle personalisation that is obtained by using matte clear coat in the finish paint, which gives the surface a silky, elegant appearance.
Traditionally, matte paint has been reserved only for high-end vehicles or small body parts such as mouldings, handles, mirrors, etc. However, like with three-coat colours, today you can find different vehicle segments that offer matte finishes within their extra options.
Therefore, SINNEK ACADEMY has thought it interesting to provide up to date and detailed information for bodywork and paint shop professionals on vehicle repairs with this type of finish.
What is matte paint or paint without gloss
As mentioned, with some paints, matte finishes are achieved by using a special low-gloss clear coat, a matte clear coat.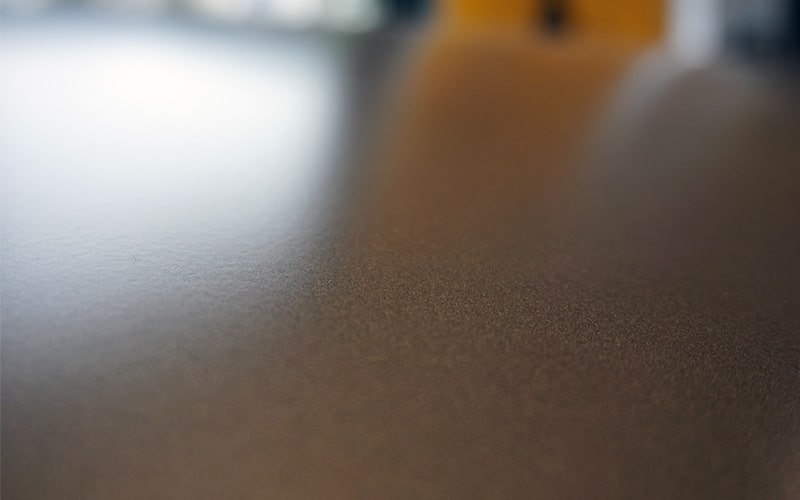 This type of clear coat provides the surface with a micro roughness, which fully prevents the passage of light, causing its reflection in various directions and diluting the gloss effect and the amount of reflections. 
Within this type of clear coats, an excellent option is SINNEK's CC/1764matte clear coat, a high-solids matte clear coat that stands out for its excellent resistance to scratching and to contact with hydrocarbons. It is easy to apply, has good outdoor performance and a smooth finish.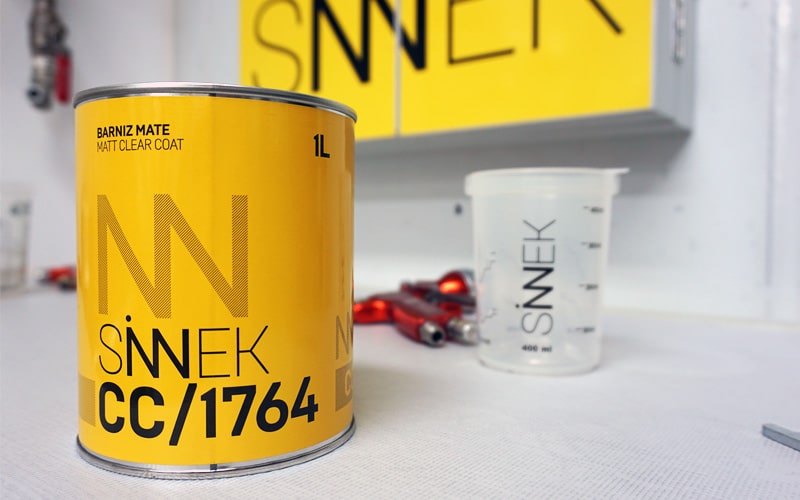 How to know the gloss level to apply with the matte clear coat?
At the bodywork and paint shop, if you want to make a good repair with matte clear coat, you need to take some aspects into account that are mainly related with the process involving the application of the final clear coat.
Nowadays, partly due to the increasing number of vehicles with this type of finish, manufacturers have been forced to provide bodywork and paint shops with special clear coats for different finishes: matte clear coat, satin clear coat or gloss clear coat finishes.
Depending on the gloss required for a correct repair, the professional can change the mixture of the different types of car clear coat, in order to obtain a gloss shade that adapts correctly. In order to know what level of gloss or matte to apply to the surface, a recommendable practice will be to prepare different mixtures of matte clear coat, each one of them with a different proportion of satin or gloss clear coat.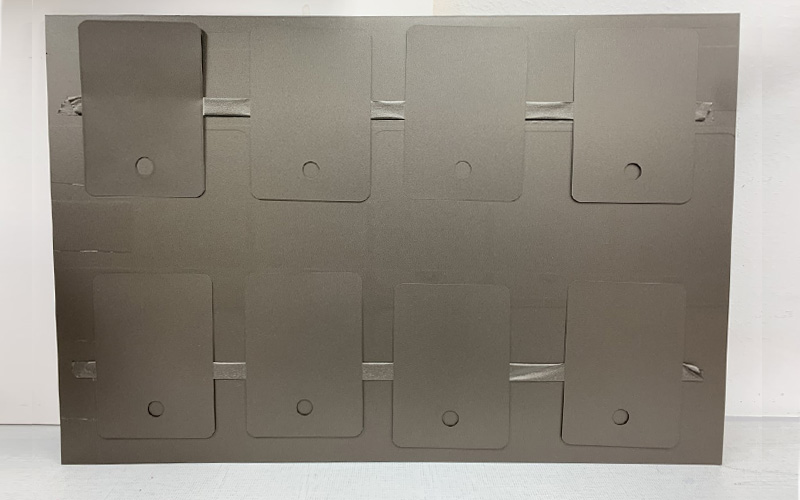 Then apply each mixture to different paint test cards, and compare with the surface to repair, to find out which one is a better match in terms of gloss.
Save the tests performed. You can use them in future repairs, thus avoiding repeating this process.
There is also a tool that is specially designed to measure the gloss level required for a clear coated or polished surface, such as the gloss meter.
However, it should be noted that this tool is not commonly used in the bodywork and paint shop. Specialised centres who are accustomed to working with this type of matte finish may be more familiar with it.
How to apply the matte clear coat: 9 essential tips
As in many other cases, to achieve a correct matte finish in the repair it will be essential to follow the indications provided by the manufacturer in the product's technical data sheet.
Obtaining the same gloss level of the part to be repaired with respect to adjacent parts is one of the main difficulties in repainting this type of finish.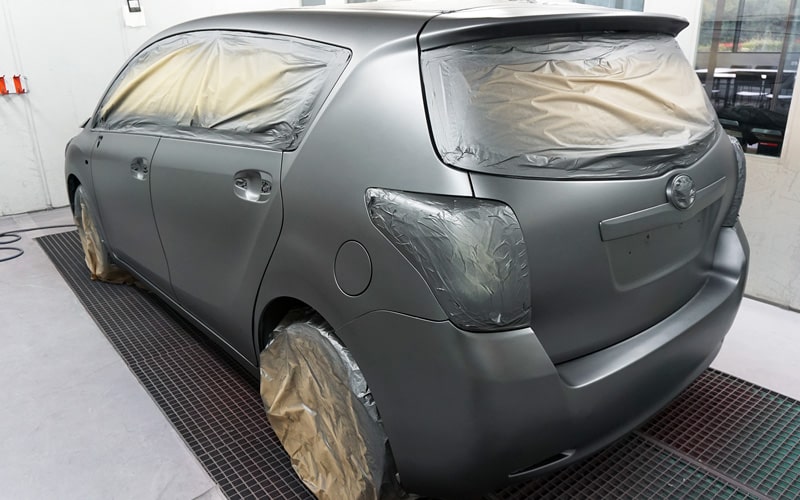 A correct repair and integration of the matte finished parts will be determined by various factors:
1. Uniform mixing of the matte clear coat
A good incorporation of the matte clear coat shall be made before its use and a uniform mixture of the combination of clear coats to be used shall be obtained, since it will directly influence the gloss level achieved after the application.
2. Accurate amount of hardener and thinner in the mixture
Adjust the amount of hardener you add to the mixture accurately based on the product's technical data sheet.
An excess of hardener will cause an increase in the final gloss. Similarly, a lower amount will result in a possible loss of gloss of the clear coat.
Use the same hardener in the tests you prepare beforehand as the one you will use in the repair (do not use fast hardeners or thinners since accelerated drying processes can lead to surface irregularities).
Similarly, a mixture of matte clear coat with excessive dilution will result in a lower coat thickness, which will also result in a lower final gloss of the surface.
3. Matte clear coat application technique
Apply a uniform matte clear coat, trying to avoid cloudiness. Application factors such as the speed and movement in each coat, the distance between the gun and the part, or the adjustment of the application equipment will influence the final gloss level.
It is preferable to avoid areas that have a greater product load or that are thicker due to overlapping layers.
4. Prior cleaning of the surface
Dust or dirt particles are factors that cause great concern to professionals. A bad condition of the ventilation system in the booth, or an insufficient cleaning of the surface, can cause the appearance of small specks and flaws in the finish.
Unlike with gloss clear coat finishes, you cannot use a polishing tool to remove these flaws, as polishing would affect the gloss level.
It is important that adjacent parts do not have any spraying remains (application), adhesive (masking) or surface particles (specks, sags) as their removal by polishing would cause gloss differences in these areas.
5. Applying the matte clear coat on the entire part (no blending)
Due to a possible change in the thickness of the clear coat in adjacent areas between parts, it is not advisable to perform the blending technique partially integrating the clear coat.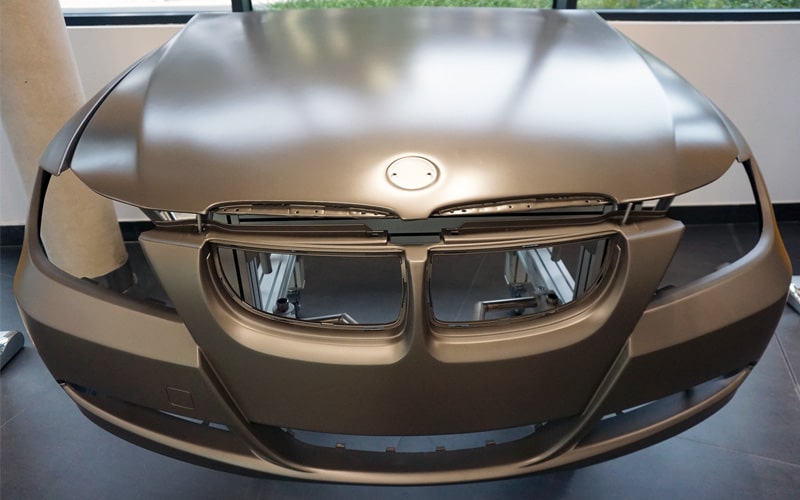 In order to join both clear coats, polish the surface and polish it, but again this will change the surface gloss level of the part. This is why the matte clear coat must be applied to the entire part.
6. Different gloss level depending on the colour type
In light metallic and pearly shades, such as silver, gold or champagne, adjusting the gloss level can be more complicated, so more attention should be paid when working with these types of special colours.
7. Differences in gloss level depending on the type and orientation of the part
The reflected gloss will vary depending on how the part is placed in the bodywork (vertical, horizontal, etc.).
To achieve a uniform gloss, test it first using a paint test card with the same finishing colour and placement of the part to be painted.
8. Influence of coating thickness on the matte clear coat
An excessively thick matte clear coat will result in a surface with a higher gloss level (ideally it should be around 50 microns thick).
9. Drying method
Following the evaporation time of the matte clear coat between coats is essential to obtain a good finish. Make sure the matte finish is correct before starting to dry the part.
In addition, it should be noted that booth drying will provide a higher gloss level than that obtained with air drying.
Care and maintenance of matte paint
Given the characteristics of matte paint, greater care and maintenance will be required than with gloss paint finishes. Matte finishes provide the surface with less mechanical resistance. Unlike what may appear, scratches and small marks will be much more visible in matte finishes than in gloss finishes (and polishing the surface to remove them will not be possible).
It will also be advisable to be extremely careful with some parts of the bodywork such as door handles and footrests. Gentle but continuous rubbing of one same area can increase the gloss.
Matte finishes also have a lower chemical resistance, so in the event of spills of fuel, grease or oil you must clean it quickly to prevent damaging the surface.
When cleaning the vehicle, it is best to wash it by hand than to run it through the washing tunnel, as some of the tunnel's components such as rollers and detergents can deteriorate the matte finish.
Use specific products and tools for matte finishes, avoid sanders, polishes and waxes that can lead to degradation and loss of gloss of the surface.
Conclusion
As we have seen, it is essential to take all these factors into account when applying the matte paint, if you want to correctly integrate the part into the bodywork, which is the main challenge in this type of repair.
In spite of its aesthetic appeal, matte finishes have a set of characteristics that force professionals to be extremely careful during the entire work process to obtain a final quality repair.