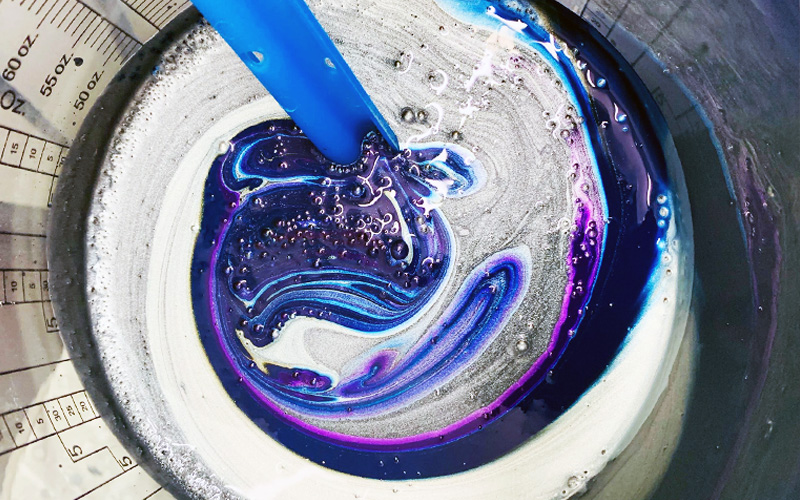 Among the different work processes that are usual in the Bodyshop sector, whether from the perspective of paint distributors who provide a ready-to-use colour preparation service or from that of bodyshops, preparing the paint mixture is undoubtedly one of the most recurrent.
Although it is a usual work process, preparing the colour mixture is also one of the least controlled and intangible processes for optimising the business' profitability and productivity . This is why, from the SINNEK ACADEMY, we wish to give you some tips and tools that will help your business to be more profitable and efficient.
Factors involved in preparing the colour mixture
The process involving the preparation and mixing of paint can be divided according to the type of paint. We consider paints such as primer, putties, clearcoats and, of course, the colour basecoats.
This last type of paint is undoubtedly the mixing process that takes the most time, due to the large number of basic materials that make up some of the formulas on the market.
Moreover, as pointed out, this work process can affect both distributors who offer a ready-to-use colour preparation service, and bodyshops that need these colour mixtures for their daily work.
To put this in context, in both business models, the approximate cost of labour and the time required to prepare the paint can amount to 50% of the total. Spare parts, tools, paint or other bodywork attachments used in this process account for the remaining 50%.
Having made this distinction, it is not difficult to conclude which of the two areas has room for improvement. Product, spare parts and tooling costs are fixed.
Therefore, as professionals in the industry, we must focus our efforts on reducing the time and labour involved in paint preparation.
Tips and tools to reduce preparation time for finish coat painting
First, of course, relying on advanced work equipment and tools will be essential to reduce the time required to prepare mixtures. Let us now take a look at the main tips and tools to keep in mind.
Technical datasheets
Always following the product indications provided in the technical datasheet during the mixing processes will allow us to develop a work methodology aimed at reducing preparation time, by reducing errors and increasing the flow of repairs.
Optimisation of working time
An especially useful practice to reduce the time required to prepare colour bases will be to take advantage of the ineffective time spent in other work processes, such as paint evaporation or drying times. This way we will be able to reduce the total time spent on repairs and increase our productivity.
Precision weighing scale
The precision weighing scale is a practical and efficient method used to obtain a fast and accurate colour mixture.
Combining it with advanced colour management software such as that used in SINNEK's water-based two-coat system , will enable colorimetry in a simple and intuitive way, while reducing the time spent during the paint mixture preparation process.
Special attention must be paid to the amount indicated by the software for each colour base if we want to mix the formula correctly. Otherwise, there is a risk of slight variations in colour, which will ultimately lead to rework and consequent loss of productivity and profitability.
FPS – Fast Paint Preparation System
To improve the productivity of both the paint preparation, and the application and cleaning process, it is advisable to use quick preparation containers or FPS. It is an easy, fast and clean solution.
It consists of 1 rigid regulated cup, a single-use flexible cup, a cap with a single-use filter for direct application of paint, and a cap for leftover paint.
It can be adapted to all types of paints and guns, and since they are disposable, we completely suppress the paint preparation process.
Automatic dosing machine
In types of businesses that prepare a large volume of colours, such as large distribution or bodyshop groups, the use of automatic colour dosing machines can be a differential factor in the profitability of the business.
A good example of this type of tool is SINNEK's 100% automated colour dosing machine, a highly efficient solution to prepare ready-to-use colours with extremely high colour accuracy.
SINNEK's machine allows automated dosing, which saves a great deal of work time and product, since it minimises to 0 the errors that occur while making the colour, helping both distributors and workshops in this daily work process.
Among the main advantages that this type of machine can offer, the following stand out:
High productivity: High speed, with a capacity of 20 colours per hour.
100% automated: Efficient solution for dosing, saving product and working time, and reducing to 0 the errors that occur when making the colour.
High precision: Capable of preparing colour mixtures from 30gr with an accuracy of up to 4 decimal places.
Excellent versatility: it allows different compositions depending on the needs of each distributor or workshop, it allows installing a water-based system, combination with single layer, solvent-based system or a hybrid version, in which in the same machine can be dosed solvent-based and water-based two-coat colours, a very versatile and practical option for distributors. This enables users to provide different solutions to workshops in an easy and efficient way.
Conclusion
As we have seen, there are different options that will allow us to reduce the time spent in recurring processes, such as preparing paint, always with the aim of our business being more productive and profitable.